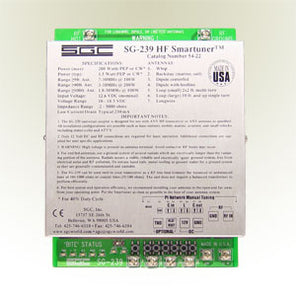 Greyline Performance is pleased to offer SGC Smartuner HF ATU remote tuners.
SGC makes higher-quality, Made in the USA, Remote Tuners. Smart, Strong, and Elegant. Truly high-end and rugged.  
THE SGC 239 IS DISCONTINUED AT THE MANUFACTURER. Please consider the SGC 230, 235, 235C and 237 until further notice. Thank you.
A premium and preferred ATU pairing for the Greyline Antenna Systems.
Considered higher-end in quality, these ATUs are popular with various professional industries such as Marine, Aeronautical, and of course Amateur Radio operators too. One aspect to point out that sets it apart from other offerings on the market is the dual-ground protections. Its isolated RF and DC grounds allow for less RF or common mode current at the radio. Some might say then that it removes the need for RF Choking in addition. 
These outstanding remote antenna tuners can tune a wet noodle without breaking a sweat. Well, so some have reported. The RF and electrical ground is solid. Tuners are generally hard to get wrong. The quality of the inner parts is a step up from the low-cost-focused remote tuners that we see in magazines. Radio ops that desire the very best quality remote auto tuners Made in America, look closer at SGC.
You want quality, this is it. They are military-grade, Made in the USA, marine industry-rated, autotuners, and are highly recommended for use with Greyline HF vertical antennas, and stealth HOA Flagpole Antennas. Built to last. 
SG-239 Smartuner™



THE BUDGET SMARTUNER
 

Low-Cost Smartuning

Get quality performance from a low-cost package. The SG-239 will operate from 1.8 to 30MHz with 1.5 to 200W. It has over 130,000 possible tuning combinations and 170 memory bins for fast, accurate tuning. Like all Smartuners, it gives you the most flexibility because it will work with any antenna and any transceiver. It also has push buttons for a manual tune option. It weighs only 2 pounds, so you can use it for base, or portable.

TECHNICAL SPECIFICATIONS
 

HF Frequency Range:
Power Input Range:
Input Impedance Range:
VSWR:
DC Input Requirement:
DC Operating Range:
Input Current:
Average:
Recurrent set time:
Memory Capacity:
Possible Tuning Combinations:
Antenna Length:



Installation:


Operating Temperature:
Size:

Weight:
Case Construction:
Control Cable:




1.8 to 30 MHz
1.5 to 200W (PEP) and 80W Digital
45 to 55 ohms
Typical: Less than 2:1
+13.8 VDC (nominal)
+10.5 to 18 VDC
300 milli Amps
Typical: Less than 2 seconds
Typical: Less than 10 milliseconds
170 non-volatile locations
130,000+
Minimum lengths: 40 feet(3.3 to 30 MHz)
100 feet(1.8 to 30 MHz)

Any position, ideal at antenna feed point

-35 to +70 degrees C
7.5L x 6W x 1.85H inches

2 pounds
Aluminum case with exposed PCB*
No cables supplied

*As the ABS weatherproofing is not provided in this model, it does allow for an custom enclosure options. 

Pro Tip: Add the DC/DC Coaxial Line Isolator to remote control the SGC RF tuning unit over your feedline coax. That means, no extra control cabling other than your coax to the antenna site.